Warrior Trainer Rodrigo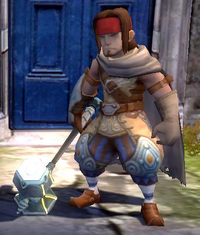 The Warrior Trainer of Saint's Haven. He came from the Lotus Marsh. Rodrigo likes to convey erroneous proverbs in an attempt to present a philosophical idea or moral.
He conveys Landslide Krag's messages to the player, much to his dismay. When Rodrigo discovers a large concentration of Spitflowers outside the city walls during his morning jog, he commissions the player to obtain a Bashy's Special Ointment to poison the entire lot. He didn't know that Stella was cultivating those Spitflowers.